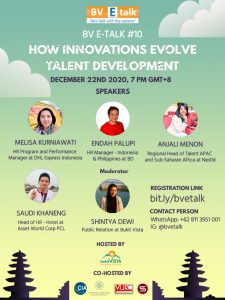 A company is an ever-changing entity. With the pandemic happening, every
company around the world is forced to implement the most rapid changes in a short
amount of time, that will change the future of work. Innovations happening daily,
affecting the greatest asset of those companies, its people. BV E-Talk 10 has
successfully delivered an update on what is relevant and evolving in terms of talent
development.
Collaborating with Victoria University Business Club, Taylor's University Student
Council, and OCIA Faculty of Psychology Universitas Gajah Mada, Bukit Vista
hosted BV E-talk #10 – How Innovations Evolve Talent Development. The E-Talk was
delivered by our amazing speakers; Melisa Kurniawati from DHL Express Indonesia,
Saudi Khaneng from AWC PCL, and Endah Palupi from BD.
We covered several topics suggested by the Co-Hosts around the organizational
culture, the future of career planning, and skills needed for starting a career in a new
industry. Not only that, the talk continued with audience-suggested topics about
office politics, the mindset needed for change-making, and trust within the
workplace. You can watch the inspiring E-Talk from our Youtube channel.
Bukit Vista is a Bali villa management startup company. We manage 170+ luxury
properties in Bali, Yogyakarta, and Nusa Penida. Currently, we are open for many
remote internship positions, especially in Human Resources. Browse the opportunity
to join our super team at our website here. Inspire Delight!